Register for the next Advanced Teen Astronomy Camp
The next Advanced Teen Astronomy Camp is scheduled for
June 19-26, 2020
The Advanced Teen Astronomy Camp
is quantitative in its approach. Students are required to have completed satisfactorily either Algebra II or Geometry in school. Attendance at the Beginning Astronomy Camp is not necessary and does not automatically qualify a student for the Advanced Camp.
Students should be between the ages of 14 and 18 years. Some exceptions are made in special circumstances by
Dr. McCarthy
, the Camp Director.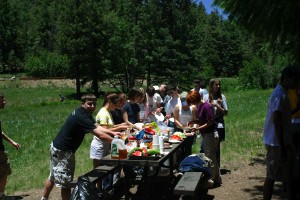 Beginning in January 2020, qualified applicants will be accepted on a first-come, first-served basis until the Camp is full
. Admission is limited to 25 students. To be successful applications must follow all the stated directions. Applications will be judged
competitively
based on the quality of their essays, ability to follow directions, and teacher recommendations. Prospective students
must contact the Camp Director
before applying.
Entrance into the Advanced Teen Camp is increasingly competitive. In 2019, the Camp was filled by mid-January and only 30% of all applications could be accommodated. We strongly urge students to adhere to the specific entrance requirements, to follow directions exactly, and to do the best job possible on the essay. Although we want former students to reapply, preference will be given to new students.
Former Advanced Campers
wishing to reapply must write about a research project which could be accomplished using Camp equipment and which could also involve other Campers. See the
essay topics
for more information.
Parents
Before Applying
, you must consider your child's transportation to and from Astronomy Camp. We require that students arrive in Tucson on the first day (June 19) of Camp
before
3 pm Tucson time. On the last day (June 26), we will be driving two hours from a remote mountain site to Tucson, so students
cannot
depart on airline flights any earlier than 2:00 pm Tucson time. Limitations in airline schedules may make these arrangements difficult depending on your location. Although we can accommodate a few students arriving one day early and/or departing one day late, such arrangements are inconvenient and will necessitate additional cost to you.
Please email
Dr. McCarthy
, if you have travel concerns and questions.
Also, please note the following:
The tuition fee of $1250 includes all expenses during the Camp session such as room, board, materials, and local travel.
Travel arrangements must be confirmed with Dr. McCarthy no later than April 15.
Scholarship notification will made no later than March 4.
To Apply
In order to apply
, first
the student applicant must email Dr. McCarthy
to confirm space is available and then mail the following
six items
in a
single mailing
to the address shown below. We will then send you follow-up information.
Parents: Please read the above admonition about travel to/from Tucson.
The completed application form
A typewritten essay of at least 1200 words on one of three topics
A confidential, sealed letter of recommendation from either a science or math teacher. In addition to describing the student's strengths, this letter should also address how the Astronomy Camp experience could benefit the student (e.g., socially, personally, academically, etc.)
Your deposit in the amount of $250 (payable to Astronomy Camp) unless you are a scholarship applicant. [The full tuition is $1250; $50 is a non-refundable handling fee.]
The signed disclaimer form
Scholarship Application form (if necessary).
The remainder of the
$1250 tuition fee
must be received
no later than April 15
. Cancellation after this date will result in a forfeiture of 50% of the tuition fee.
Mail the above
six items
together
to:
Dr. Don McCarthy
Advanced Astronomy Camp for Teens
Steward Observatory
933 N. Cherry Ave.
Tucson, AZ 85721-0065

Home | Information | Registration | Articles | Links
All Images, Media and Content - Copyright © 2020 Astronomy Camp
Site Design by Jacob Omann. Maintained by Astronomy Camp. Updated December 31, 2019